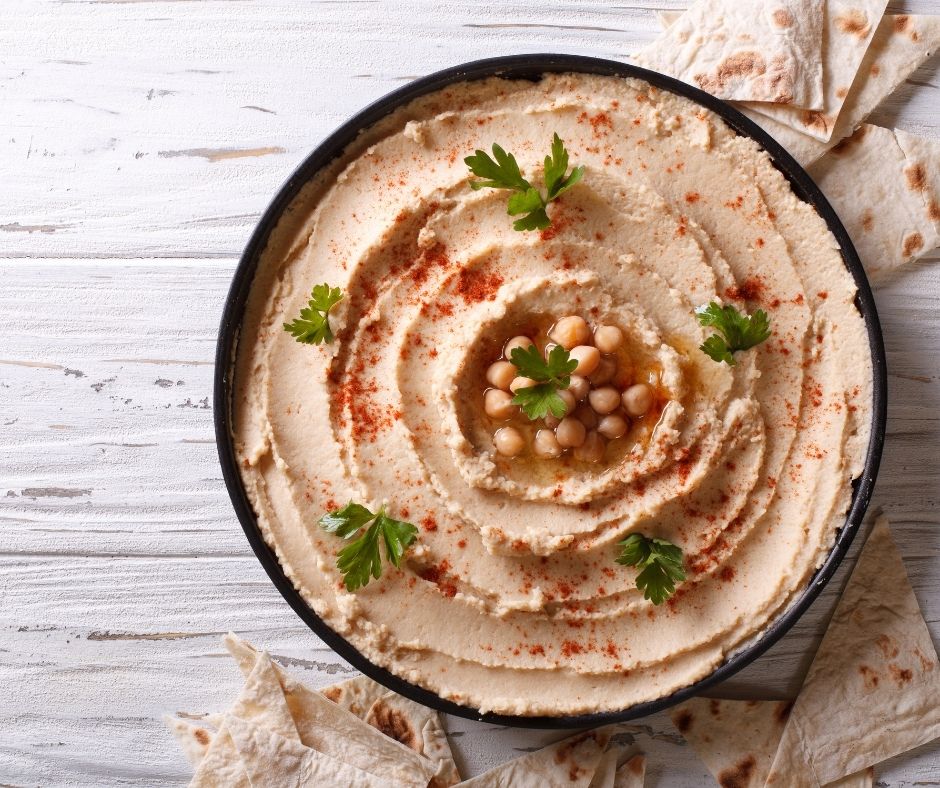 Hummus at Home
Hummus is really one of the easiest and FAST things to make in the kitchen. Once you have all your ingredients placed on the counter, it's a breeze to make. Not only is it a great dip but, I use it often in sandwiches too.
 The one ingredient many of us don't have in our kitchens is tahini (sesame paste). By itself, it's not one of my favorite pantry items but, you'll always find a jar in my fridge. I add it to vegetarian soups and sauces, as well as other traditional Mediterranean recipes.
Yes, you'll need your food processor for this one. Food Processors are indispensable in any kitchen. I bought mine for $10 at a garage sale!
Ingredients:
1 15-ounce can garbanzo beans (chickpeas) *Save the liquid from the can and use it to thin out the hummus, if necessary.
1-2 cloves garlic, rough chopped (Use less or more, depending on how much you like garlic)
½ teaspoon salt
3 tablespoons of tahini (sesame paste)
1 teaspoon cumin (lightly toasted in a dry pan)
1 teaspoon coriander (lightly toasted in a dry pan)
2 tablespoons extra virgin olive oil, plus more for garnish
2-3 tablespoons fresh lemon juice (Don't use that bottled stuff. We live in California for heaven's sake. Go steal a lemon from your neighbor. Tell them Chef Cam sent you. Ha!)
* Unnecessary but pretty garnish: Chopped Parsley, paprika or smoked paprika, extra virgin olive oil. If you want to be swanky, toasted pine nuts are incredible sprinkled on top. Though they're a little expensive for my blood.
Directions:
Place the chickpeas, tahini and two tablespoons of lemon juice in the processor. Process until smooth.
Scrape down the sides of the processor.
Add the salt, half the garlic and spices. Taste to see if you want to add more salt, lemon juice or garlic.
Process again until smooth. If the hummus is too thick, add some of the liquid from the chickpeas.
Adjust your seasoning again.
Pour the hummus into serving bowl.
Garnish to your preference.
Hummus can be made the night before or stored in your fridge for at least 5 days. If you pull it out of the fridge and it's a little too tight, add a touch of warm water and stir it.
Variations:
Roasted Garlic Hummus: Preheat your oven to 375 degrees. Cut a ¼ inch off the side opposite of the root-end. Place the garlic bulb in aluminum foil and drizzle 1-2 teaspoons oil over it and a sprinkle of salt. Tightly wrap the foil around the garlic and roast in the oven for 30-45 mins, until it is soft and smelling DELICIOUS. Let cool for 5 minutes. Then, squeeze out the garlic into your food processor and follow the recipe substituting the roasted garlic for the raw.
Spicy Hummus: Add ½ teaspoon cayenne pepper to the recipe.